Fujigiken now uses PolyWorks|Inspector™
on all their measurement devices to improve the efficiency
of their measurement and inspection operations.
Since 1988, Fujigiken Inc. has been expanding 4 core businesses in Japan: the trial manufacture of car seats, the trial production of cars, small-volume production and supply, and jig production. Their staff networks between the head office in Mie and their factories in Kagoshima and Thailand. Together, they are able to provide high-quality products on time, according to the needs of customers of car manufacturers, by establishing a rational and efficient production system.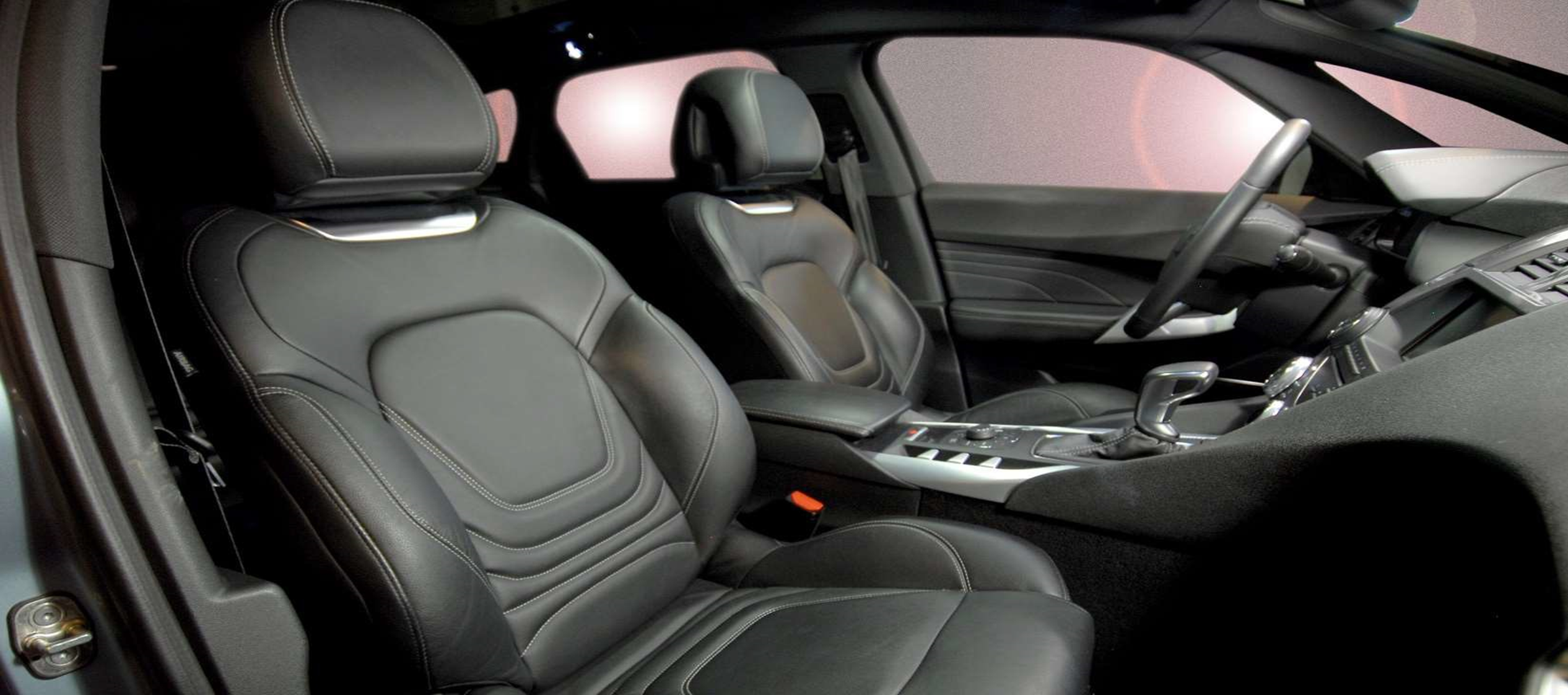 Fujigiken makes the best use of 3D systems for all processes related to production, from product development and architectural design to the manufacture of stamps, molds, and jigs, followed by part assembly, measurement, and inspection. The Quality Assurance Department uses several types of 3D hardware devices to take measurements: FARO® Arms, FARO ScanArms, Mitutoyo® CNC CMMs, a Mitutoyo non-contact laser probe, an OPTON® Cloud Former, and a Hexagon® BLAZE 600M.
The Challenge
The Quality Assurance Department performed part inspections by creating an inspection sheet based on dimensions indicated on 2D drawings. Then, a group of 10 or more operators measured the parts using the dedicated software for each of the hardware devices, aided by engineers trained on the devices. The measurement results were noted by hand and then manually input into a Microsoft Excel spreadsheet and submitted to their clients.
This part inspection method was time consuming and the manual data entry made it error prone. In addition, each operator was trained on only certain measurement devices, so some devices went unused if certain individuals were busy or absent, affecting productivity. Or if certain devices were unavailable, certain employees found themselves underworked. And since each device had its own software, it took a lot of time and effort to train the personnel to become productive on their group of devices.
There was also a problem opening large data files using their current inspection software. When they tried to use third-party software to open the files, their PC froze. Consequently, those data files first had to be edited. This situation was slowing down their operations. In addition, a customer for whom Fujigiken was doing contract measuring at the Kyushu car-making factory, who is a PolyWorks|Inspector user, requested that Fujigiken submit PolyWorks data with their measurement results. As a parts supplier, Fujigiken must document a successful first-article inspection demonstrating that the deliverables meet part specifications.
The customer request, combined with the need to standardize their measurement devices under one common software platform, required Fujigiken to find a better software solution for its measurement and inspection operations.
The Solution
Following a recommendation from a Hexagon representative, Fujigiken contacted PolyWorks Japan for information concerning PolyWorks|Inspector, a software for 3D dimensional analysis and quality control which is part of the PolyWorks universal 3D metrology software platform. A sales representative and an application specialist made an on-site visit and demonstrated how PolyWorks|Inspector could be used with their FARO arms and the Mitutoyo CNC CMMs. PolyWorks Japan also tested the CMMs using customer requirements and explained to the Fujigiken CMM operator in detail how to measure parts using the CNC CMM plug-in.

The Quality Assurance Department decided to adopt the PolyWorks|Inspector solution because of its universal software platform, which enables them to connect directly to all their portable measurement devices and their CNC CMMs. The measurement device plug-ins worked well and came with the product, at no extra cost. Fujigiken decided to use a floating licensing scheme, which made PolyWorks|Inspector easy to use on all their networked PCs.
The entire team took a PolyWorks|Inspector training. They found the software easy to operate and were satisfied that its hardware device plug-ins let them use all the functions of their portable CMMs and their CNC CMMs. 
The Quality Assurance Department began using PolyWorks|Inspector with their portable CMMs and, soon afterward, their CNC CMMs. They discovered they were able to use several hardware devices for the same inspection project! And that PolyWorks|Inspector could open the large data files from their FARO ScanArms easily. Specialists from PolyWorks Japan visited regularly to help Fujigiken with their challenges until their operations were running smoothly. Overall work efficiency improved greatly. 
 
Mr. Katsunori Kodaka, Section Manager of the Quality Assurance Department, states, "PolyWorks|Inspector is now used for the entire measurement and inspection process. We can operate PolyWorks|Inspector intuitively and prepare the setting of measurement points in advance by using CAD models. Measurement work can be completed quickly, and operational efficiency has improved. It's also very convenient, since we can create reports for the measured points so easily. This aspect of the software greatly simplifies the preparation of inspection projects."

When inspecting parts by laser scanning with their portable arm devices using PolyWorks|Inspector, Fujigiken frequently uses the color map function. The 3D scans obtained can also be used to create STL data describing the surface geometry of the three-dimensional objects, which in turn can be used for reverse engineering. Furthermore, Fujigiken often receives requests from customers for their scanned data, who consider PolyWorks|Inspector to be superior in point cloud processing.

Fujigiken now submits PolyWorks data to their customers, who use it to confirm the inspection results.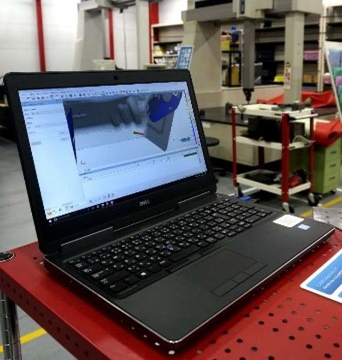 PolyWorks manages various types of hardware devices,
resulting in greatly improved work efficiency.
 
Using PolyWorks to scan with a Faro Arm, effectively implementing measurement, inspection, and report creation.
The Benefits
With PolyWorks|Inspector, Fujigiken has increased work efficiency, significantly reducing the time required for their measurement and inspection operations.

Mr. Shigeru Sato, President and Director, explains, "With the installation of PolyWorks|Inspector, we can open large data files after laser scanning without any issues and perform measurement work very quickly. In addition, by standardizing on the PolyWorks software platform, the frequency of use of our measurement devices is increasing. We have improved work efficiency, and all members can now operate all measurement devices easily. And training time and costs have been reduced, since most operators use PolyWorks|Inspector. As a result, the productivity of the whole enterprise has improved significantly and is continuing to do so. When purchasing measurement devices in the future, we will definitely select devices that PolyWorks|Inspector can connect with."
The overall part inspection time has also been reduced drastically. Mr. Kouhei Hata, General Affairs Department, states, "When we used a different software, it took two operators eight hours for the entire operation, since we needed to perform operations in advance. This included meshing the point cloud or deleting unnecessary data when the measurement software couldn't open the large data files. With PolyWorks|Inspector, we can edit the scanned data and complete the measurement operation in about three hours, with just one operator. We have succeeded in reducing the man-hours of the data-editing operation, as well as the actual hours dedicated to measurement and inspection, resulting in a reduction in overtime. " 
Implementation plans with PolyWorks
Fujigiken plans to increase the use of PolyWorks|Inspector in their inspection processes:
Standardize their operations by using PolyWorks|Inspector for part measurement and inspection at each of their sites.
 
Submit the data measured using PolyWorks|Inspector to customers, along with the measurement results, and request that customers who don't have PolyWorks|Inspector install the free PolyWorks|Reviewer™ to review the results.
 
Do more non-contact measurements using their CNC CMMs by purchasing laser scanners supported by PolyWorks|Inspector's CNC CMM plug-in.
Business development for the future
Fujigiken is also considering installing the PolyWorks|DataLoop™ measurement data management solution. Mr. Shigeru Sato, President and Director, explains, "We are currently considering enhancing project analysis during our manufacturing processes. Our customers want feedback during manufacturing on product assembly, part-to-nominal deviation reports, color maps for laser-scanned data, feedback concerning 3D measurements, results analysis, pass/fail results, measurements-to-CAD deviations, and more. To meet these needs and to manage historical information and previous data, powerful search functionalities and efficient data sharing are essential. By installing PolyWorks|DataLoop and unifying the reports we use, we hope to increase our overall efficiency with regards to the management of measurement results."
Fujigiken can provide a complete gamut of services, from development and design to the completion of products in-house, and their business is growing. They also do preproduction and small-volume production, and they expect the latter business will continue to grow. Fujigiken will continue manufacturing high-quality products, efficiently and on schedule, by utilizing products in the PolyWorks software suite.

Fujigiken is proud to be a competitive company in the manufacturing industry in Japan, actively participating in product development, support, and production. In addition, by successfully achieving a significant reduction of working time, Fujigiken is actively contributing to the "Workstyle Reform" in Japan, which seeks to achieve a better balance between the professional and the personal lives of employees.
Featured Products
PolyWorks|Inspector™
The 3D dimensional analysis and quality control solution to gain control of your product engineering and manufacturing process